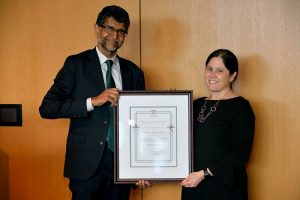 The University of Pennsylvania Department of Bioengineering is proud to announce that our faculty member Beth Winkelstein, PhD, has been named the Eduardo D. Glandt President's Distinguished Professor by the Penn School of Engineering and Applied Science (SEAS). The endowed professorship is named for Eduardo D. Glandt, PhD, former Dean of SEAS and Professor Emeritus in the Department of Chemical & Biomolecular Engineering.
An undergraduate alumna of Penn, Dr. Winkelstein earned her PhD in Biomedical Engineering from Duke in 1999. Recruited by Dr. Glandt himself, Dr. Winkelstein returned to Penn as a Bioengineering faculty member in 2002, with tenure and promotion to Associate Professor in 2007 and promotion to Professor in 2011. Beginning that same year, she has taken on a series of increasingly important administrative positions, first as Bioengineering Graduate Group Chair (2011-12), then as Associate Dean of Undergraduate Education in SEAS (2012-2015), and now as Vice Provost for Education (since 2015).
Dr. Winkelstein is the principal investigator at the Spine Pain Research Lab, which studies and seeks to better understand chronic pain syndromes. On the basis of her research, she has received multiple awards and honors, including the NSF Career Award, the Y.C. Fung Award from the American Association of Mechanical Engineers (ASME), and election as a fellow of the American Institute for Medical and Biological Engineering, the Biomedical Engineering Society, and the ASME. Most recently, Dr. Winkelstein was elected as a councilor in the World Council of Biomechanics.
"Receiving an endowed chair represents a recognition of an individual's contributions to their field, their leadership, and the legacy of their trainees," said David Meaney, PhD, Chair of the Bioengineering Department. "Beth's research program continues to flourish, and her leadership in national societies grows constantly."