At a special luncheon on campus, President Liz Magill recognized this year's eight awardees, who she said 'exemplify imagination, creativity, grit, and leadership.'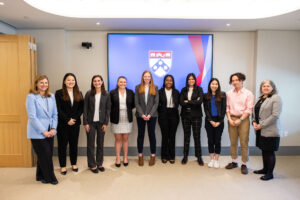 When Kenneth Pham got the call last week, he said he was "shocked."
"It's kind of embarrassing, the president's call went straight to voicemail," the fourth-year chemistry major said. "But I called her office right back."
Pham quickly learned that he and Catherine Chang had earned one of this year's President's Engagement Prizes (PEP) for their project Act First, which, once established, will provide critical first-aid training to high school students in Philadelphia. Both members of Penn's Medical Emergency Response Team since their earliest years on campus, Pham, from South Philadelphia, and Chang, from Taiwan, hope to extend the program's lifesaving education off campus, teaching others how to reverse opioid overdoses, successfully administer CPR, and prevent life-threatening bleeding.
"We feel honored to be recognized for the work we've been so passionate about, and we are so glad to finally have the opportunity to work on this," Pham said Wednesday afternoon, sitting next to Chang as well as his parents at a celebratory luncheon for this year's PEP, as well as President's Innovation Prize (PIP), winners.
"After all our hard work this past year, it feels great," added Chang, who graduated with her degree in biology in December.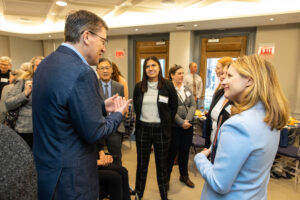 In addition to Act First, fourth-year neuroscience major Lucy Lee has been awarded a PEP for her initiative Communities for Childbirth, and fourth-year bioengineering majors Gabriella Daltoso, Sophie Ishiwari, Gabriela Cano, Caroline Amanda Magro, and Tifara Eliana Boyce have received a PIP for their startup Sonura. All three projects will be awarded $100,000 for implementation expenses, as well as a $50,000 living stipend per team member to be used in the coming year, immediately following graduation.
"This is a uniquely Penn experience," said President Liz Magill, speaking to the awardees and their family members and mentors at the gathering. "No other university has a program quite like this, and I would like to say that's in part because no other university has the student body we have at Penn, so focused on creating solutions to pressing societal problems. That particular characteristic is a trait that we celebrate, coming down from—yes, you guessed it—our founder Ben Franklin."
Read the full story in Penn Today.