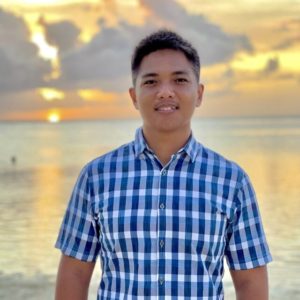 Joseph Lance Casila, a doctoral student and Fontaine Fellow in Bioengineering, was profiled by his alma mater, the University of Guam (UOG. Casila was the first person in his family to graduate from a U.S.-accredited university and is now studying tissue engineering and regenerative medicine in the Bioengineering and Biomaterials Laboratory of Riccardo Gottardi, Assistant Professor in Bioengineering in Penn Engineering and Pediatrics in Penn Medicine and the Children's Hospital of Philadelphia (CHOP). His research in the Gottardi lab employs "tissue engineering and drug delivery for biomedical problems relating to knees, ears, nose, and throat but specifically to pediatric airway disorders." The article discusses Casila's journey from valedictorian of his high school, to a first-generation undergraduate interested bioengineering, and now a graduate student studying at Penn on a full scholarship. After completing his degree, Casila hopes to bring what he's learned back home to advance health care in Guam.
"My mentors, and especially my friends, helped me make the most of what UOG had to offer, and it paid off rewardingly," he said. "You get what you put in."
Read "A first-generation student's path to an Ivy League Ph.D. program" in the University of Guam News & Announcements.