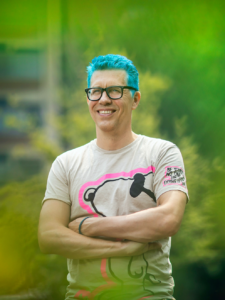 President Amy Gutmann has recently announced that two Penn Integrates Knowledge Professors, one of which is Penn Engineering's own Konrad Kording, have received named University Professorships.  
Kording, who holds joint appointments in the Department of Neuroscience in the Perelman School of Medicine and the Department of Bioengineering in the School of Engineering and Applied Science, will become the Nathan Francis Mossell University Professor. 
When Nathan Francis Mossell graduated in 1882, he became the first African American to earn a medical degree from Penn. He soon became a prominent African American physician, the first to be elected to the Philadelphia County Medical Society. He helped found the Frederick Douglass Memorial Hospital and Training School, which treated Black patients and helped train the next generation of Black doctors and nurses.  
"Dr. Mossell was truly inspiring. He had to fight for everything, yet never reneged on his principles. He pretty much started a hospital and was a major champion for the advancement of equality for African Americans," Kording said. "In my research, where I study how intelligence works, I am inspired by scholars like him who combine many different insights. He was a wonderful man, and I will be proud to carry his name." 
Read more in Penn Today.