by Melissa Pappas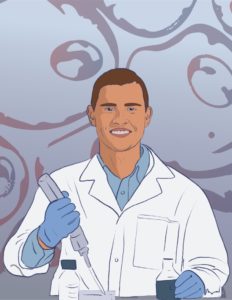 Therapies that use engineered cells to treat diseases, infections and chronic illnesses are opening doors to solutions for longstanding medical challenges. Lukasz Bugaj, Assistant Professor in Bioengineering, has been awarded a National Science Foundation CAREER Award for research that may be key to opening some of those doors.
Such cellular therapies take advantage of the complex molecular mechanisms that cells naturally use to interact with one another, enabling them to be more precise and less toxic than traditional pharmaceutical drugs, which are based on simpler small molecules. Cellular therapies that use engineered immune system cells, for example, have recently been shown to be highly successful in treating certain cancers and protecting against viral infections.
However, there is still a need to further fine-tune the behavior of cells in these targeted therapies. Bugaj and colleagues are addressing that need by developing new ways to communicate with engineered cells once they are in the body, such as turning molecular events on and off at specific times.
The research team recently discovered that both temperature and light can act as triggers of a specific fungal protein, dynamically controlling its location within a mammalian cell. By using light or temperature to instruct that protein to migrate toward or away from the cell's membrane, Bugaj and his colleagues showed how it could serve as a key component in controlling the behavior of human cells.
Read the full story in Penn Engineering Today.