The Department of Bioengineering is proud to congratulate two of our graduating seniors on their 2019 President's Engagement Prize and President's Innovation Prize. Awarded annually, the Prizes empower students to design and undertake post-graduation projects that make a positive, lasting difference in the world. Each Prize-winning project will receive $1000,000, as well as $50,000 living stipend per team member.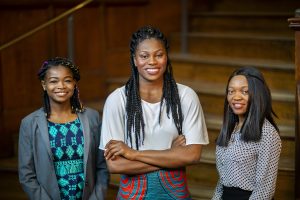 BE senior Oladunni Alomaja (BSE 2019) and her partners Princess Aghayere and Summer Kollie won a President's Engagement Prize for Rebound Liberia. Ola and her partners will use basketball as a tool to bridge the literacy gap between men and women and as a mechanism for youth to cope with the trauma and stress of daily life in post-conflict Liberia. Rebound Liberia will build an indoor basketball court in conjunction with a community resource center, and its annual three-month summer program will combine basketball clinics with daily reading and writing sessions and personal development workshops. The team is being mentored by Ocek Eke, director of global and local service-learning programs in the School of Engineering and Applied Science.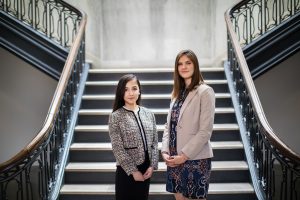 BE senior Malika Shukurova (BSE 2019, also pursuing a MSE in BE) and her partner Katherine Sizov won a President's Innovation Prize for Strella Biotechnology. Strella is developing a bio-sensor that can predict the maturity of virtually any fresh fruit. Strella's sensors are installed in controlled atmosphere storage rooms, monitoring apples as they ripen. This enables packers and distributors to identify the ripest apples and fruit for their customers, thus minimizing spoilage and food waste and promoting sustainability. Strella's current market is U.S apple packers and distributors, which represent a $4 billion produce industry. The startup is looking to expand to other markets, such as bananas and pears, in the future. Malika and Katherine are being mentored by Jeffrey Babin, Practice Professor and Associate Director of the Engineering Entrepreneurship Program. Katherine, a Biology major in the College of Arts and Sciences, developed the company as a sophomore in the George H. Stephenson Foundation Educational Laboratory, the primary teaching lab for the Department of Bioengineering.
Another winner of the President's Innovation Prize, Wharton student Michael Wong for InstaHub, also has BE connections: One of the co-founders, Oladayo (Dayo) Adewole, graduated with a BSE in Bioengineering in 2015, went on to achieve his master's in Robotics, and is currently back in BE pursuing his PhD. InstaHub's mission is to eliminate energy waste through snap-on automation that enhances, rather than replaces, existing building infrastructure. Founded at Penn in 2016, InstaHub is focused on fighting climate change through energy conservation efforts with cleantech building automation technology. The initial development work for InstaHub was also done in the George H. Stephenson lab here in BE.
Congratulations once again to all the winners of this year's President's Engagement Prize and President's Innovation Prize! Read more about the awards and all the winners at Penn Today and the Penn Engineering Medium Blog.