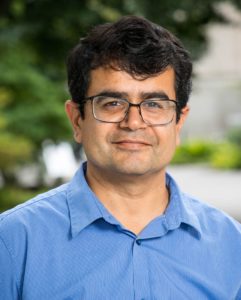 Speaker: Samir Mitragotri, Ph.D.
Hiller Professor of Bioengineering and Hansjorg Wyss Professor of Biologically Inspired Engineering
John A. Paulson School of Engineering and Applied Sciences
Harvard University
Date: Thursday, November 18, 2021
Time: 3:30-4:30 PM EST
Zoom – check email for link or contact ksas@seas.upenn.edu
This seminar will be held virtually, but students registered for BE 699 can gather to watch in Moore 216.
Abstract: Ionic liquids, the liquid salts comprising organic anions and cations, offer exciting opportunities for several therapeutic applications. Their tunable properties offer control over their design and function. Starting with biocompatible ions, we synthesized a library of ionic liquids and explored them for various drug delivery applications. Ionic liquids provided unique advantages including overcoming the biological transport barriers of skin, buccal mucosa and the intestinal epithelium. At the same time, they also stabilized proteins and nucleic acids and enabled the delivery of biologics across these barriers. Ionic liquids also provided unique biological functions including adjuvancy towards vaccines and antimicrobial function. I will present an overview of the design features of ionic liquids and novel biomedical applications enabled by these unique materials.

Samir Mitragotri Bio: Samir Mitragotri is the Hiller Professor of Bioengineering and Wyss Professor of Biologically Inspired Engineering at Harvard University. His research is focused on transdermal, oral, and targeted drug delivery systems. He is an elected member of the National Academy of Engineering, National Academy of Medicine and National Academy of Inventors. He is also a foreign member of Indian National Academy of Engineering. He is also an elected fellow of AAAS, CRS, BMES, AIMBE, and AAPS. He is an author of over 350 publications, an inventor on over 200 patent/patent applications, and a Clarivate Highly Cited Researcher. He received his BS in Chemical Engineering from the Institute of Chemical Technology, India and a PhD in Chemical Engineering from the Massachusetts Institute of Technology. He is the Editor-in-Chief of AIChE's and SBE's journal Bioengineering and Translational Medicine.