A new Penn Medicine preclinical study demonstrates a simultaneous 'knockout' of two inflammatory regulators boosts T cell expansion to attack solid tumors.
by Meagan Raeke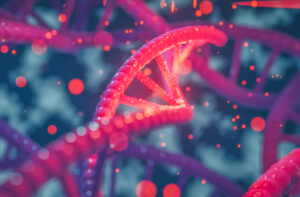 A new approach that delivers a "one-two punch" to help T cells attack solid tumors is the focus of a preclinical study by researchers from the Perelman School of Medicine. The findings, published in the Proceedings of the National Academy of Sciences, show that targeting two regulators that control gene functions related to inflammation led to at least 10 times greater T cell expansion in models, resulting in increased anti-tumor immune activity and durability.
CAR T cell therapy was pioneered at Penn Medicine by Carl H. June, the Richard W. Vague Professor in Immunotherapy at Penn and director of the Center for Cellular Immunotherapies (CCI) at Abramson Cancer Center, whose work led to the first approved CAR T cell therapy for B-cell acute lymphoblastic leukemia in 2017. Since then, personalized cellular therapies have revolutionized blood cancer treatment, but remained stubbornly ineffective against solid tumors, such as lung cancer and breast cancer.
"We want to unlock CAR T cell therapy for patients with solid tumors, which include the most commonly diagnosed cancer types," says June, the new study's senior author. "Our study shows that immune inflammatory regulator targeting is worth additional investigation to enhance T cell potency."
One of the challenges for CAR T cell therapy in solid tumors is a phenomenon known as T cell exhaustion, where the persistent antigen exposure from the solid mass of tumor cells wears out the T cells to the point that they aren't able to mount an anti-tumor response. Engineering already exhausted T cells from patients for CAR T cell therapy results in a less effective product because the T cells don't multiply enough or remember their task as well.
Previous observational studies hinted at the inflammatory regulator Regnase-1 as a potential target to indirectly overcome the effects of T cell exhaustion because it can cause hyperinflammation when disrupted in T cells—reviving them to produce an anti-tumor response. The research team, including lead author David Mai, a bioengineering graduate student in the School of Engineering and Applied Science, and co-corresponding author Neil Sheppard, head of the CCI T Cell Engineering Lab, hypothesized that targeting the related, but independent Roquin-1 regulator at the same time could boost responses further.
"Each of these two regulatory genes has been implicated in restricting T cell inflammatory responses, but we found that disrupting them together produced much greater anti-cancer effects than disrupting them individually," Mai says. "By building on previous research, we are starting to get closer to strategies that seem to be promising in the solid tumor context."
Read the full story in Penn Medicine News.
June is a member of the Penn Bioengineering Graduate Group. Read more stories featuring June's research here.