by Karen L. Brooks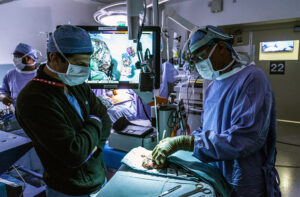 In the five years since the FDA's initial approval of chimeric antigen receptor (CAR) T cell therapy, Penn Medicine has gleaned 20 additional approvals related to drugs and techniques to treat or detect cancer.
Rather than being the single disease class many people refer to, "cancer" is a blanket term that covers more than 100 distinct diseases, many of which have little in common aside from originating with rapidly dividing cells. Since different cancers demand different treatments, it follows that any given new therapy emerging from any institution would be likely to be a new cancer treatment.
But why so many in just this five-year period?
The volume of new cancer treatments makes sense, says Abramson Cancer Center (ACC) director Robert Vonderheide, attributing the flurry of new cancer drug approvals to a recent "explosion" in knowledge about cancer biology.
"Much of that knowledge is about the immune system's ability to attack cancer, which people seriously doubted until about 20 years ago. As soon as we had a clinical validation for this Achilles heel in cancer, the dam burst for ideas about other ways to exploit that vulnerability to come forward," he says. "The first drug that came out to activate the immune system inspired the rest of the field to find the next drug, and the one after that. We as a field have moved from serendipity and empiricism to science-driven drug design."
The first CAR T cell therapy approval invigorated Penn faculty interested in finding new ways to harness the immune system to fight cancer.
"An approval like that makes what you're working on more of a reality," says Avery Posey, an assistant professor of systems pharmacology and translational therapeutics in the Perelman School of Medicine, whose lab team spends much of its time trying to identify more specific antigens for solid tumors and also studies ways to optimize engineered donor T cells. "It brings a new perspective, showing that your work is more than basic research and can actually become drugs that impact patients' lives. That's a real motivator to keep pushing forward."
Honing new immunotherapies is a priority among Penn researchers, but not every recently approved new cancer treatment or detection tool developed at the institution engages the immune system. Faculty have explored and introduced widely varying approaches to improving the standard of care for cancer patients.
Read the full story in Penn Medicine Magazine.
Avery Posey is a member of the Penn Bioengineering Graduate Group. Read more stories featuring Posey here.