Provost Wendell Pritchett has announced the appointment of Beth Winkelstein as Deputy Provost.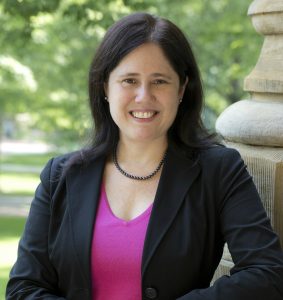 "Beth Winkelstein has become one of our most essential leaders of teaching, learning, and student life," said Pritchett, "since she began her tenure as vice provost for education five years ago. Her insight and energy enhance every part of our campus. She leads both undergraduate and graduate education, collaborating with deans, faculty leaders, and the Office of the Vice Provost for University Life, as well as the Council of Undergraduate Deans, Council of Graduate Deans, Graduate Council of the Faculties, and Council of Professional Master's Degree Deans.
"As deputy provost, she will continue this invaluable work while working closely with me to better integrate and expand our educational initiatives, especially by incorporating new technologies, new ways of teaching, and additional supports for faculty and students that advance our core priorities of innovation, impact, and inclusion," Pritchett said. "As we enter this new and challenging phase of Penn history, Beth is the perfect person to help us chart the landscape ahead."
Drawing on her experience as a former Penn undergraduate, Winkelstein has been a dynamic leader of initiatives to enhance undergraduate student life, especially the new Penn First Plus program, which provides targeted support for first-generation and/or low-income students, and the dedicated Second-Year Experience, which offers enhanced programs for second-year students to accompany Penn's new second-year housing requirement. She has at the same time been a vital advocate for graduate and professional students, overseeing the Graduate Student Center and Family Center, while advancing a series of initiatives to improve every aspect of support for students' academic progress, professional advancement, and work-life balance. Her leadership spans such key areas as College Houses and Academic Services, New Student Orientation, the Center for Undergraduate Research and Fellowships, and the Office of Student Conduct. And that leadership has been especially critical for the Online Learning Initiative and the Center for Teaching and Learning, in these recent months when that work has become central to Penn's educational efforts.
Winkelstein's leadership is based in her deep knowledge of and appreciation for the University, as well as her own scholarly and research distinction. She has taught in the Bioengineering Department in the School of Engineering and Applied Science since 2002, becoming in that time one of the world's leading innovators in research on new treatments for spine and other joint injuries. Appointed two years ago as the Eduardo D. Glandt President's Distinguished Professor, she continues to lead her pioneering Spine Pain Research Lab, mentor students and postdocs, and serve as co-editor of the Journal of Biomechanical Engineering. Among her many professional honors, she is a Fellow of the Biomedical Engineering Society and the American Society of Mechanical Engineering and was elected to the American Institute for Medical and Biological Engineering and the World Council of Biomechanics.
Winkelstein earned a Ph.D. in bioengineering from Duke University and a B.S.E. cum laude in bioengineering from Penn as a Benjamin Franklin Scholar.
Originally posted in Penn Today.