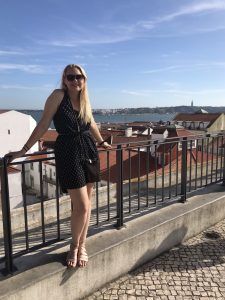 Next up in our student spotlight series is graduate student Katie Falcone, a second-year Master's student Bioengineering. Originally from the Philadelphia suburbs, Katie did her undergraduate degree at Drexel University's Biomedical Engineering program and has been living in the University City area for almost nine years.
What drew you to the field of Bioengineering?
What originally drew me to this field was a "Women in Engineering Day" I attended at a local college while in high school. I had the opportunity to hear incredible women speak about their research regarding biomaterials and tissue engineering. This event showed me the impact this field can have on the world. This drove me to pursue an undergraduate degree in Biomedical Engineering, which only strengthened my passion. As I furthered my studies and began working full-time at a biotechnology company, I learned more about bioengineering. With encouragement from my coworkers and family, I decided to pursue my Master's in Bioengineering and am delighted to have the opportunity to study at Penn.
What kind of research do you conduct, and what do you hope to focus on for your thesis?
I am actually a part-time student, who works full-time at a drug packaging and medical device company out in Exton, PA. Though I am not doing research on campus, my coursework has tied into previous research projects I have participated in at my job. My latest project entailed understanding different material properties used in container closure systems for mAb-based biologics and how they interact. This work was done to support an understanding of how to pick appropriate vial/syringe systems for various drug products in development.
What's your favorite thing to do on Penn's campus or in Philly?
My favorite thing to do is trying all the new restaurants and incredible foods this city has to offer. I think Philadelphia is so unique and has such rich cultural influences. With so many different neighborhoods and restaurant options you really can't go wrong.
What did you study for your undergraduate degree, how does it pair with the work you're doing now, and what advice would you give to your undergraduate self?
My undergraduate degree was in Biomedical Engineering. It has supported my graduate coursework very well and has given me a great opportunity to dive deeper into certain parts of my studies.
My advice to my younger self would be to take your time! It took me a little while to evaluate different graduate programs and choose which was right for me. Though it took some time, I ultimately decided what was best for me and couldn't be happier with my choices.
What are you thinking about doing after graduate school?
Currently, I work full-time as an Associate Packaging Engineer at West Pharmaceutical Services in Exton, PA. I hope to take my degree to further my career and to help support my future aspirations at this company.