by Ebonee Johnson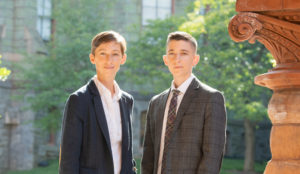 Twin academics Dani S. Basset, J. Peter Skirkanich Professor and director of the Complex Systems Lab, and Perry Zurn, a professor of philosophy at American University, were recently featured as guests on NPR radio show "Detroit Today" to discuss their new book, "Curious Mind: The Power of Connection."
In their book, Basset and Zurn draw on their previous research, as well as an expansive network of ideas from philosophy, history, education and art to explore how and why people experience curiosity, as well as the different types it can take.
Basset, who holds appointments in the Departments of Bioengineering and Electrical and Systems Engineering, as well as the Department of Physics and Astronomy in Penn Arts & Science, and the Departments of Neuroscience and Psychiatry in Penn Perelman's School of Medicine, and Zurn spoke with "Detroit Today" producer Sam Corey about what types of things make people curious, and how to stimulate more curiosity in our everyday lives.
According to the twin experts, curiosity is not a standalone facet of one's personality. Basset and Zurn's work has shown that a person's capacity for inquiry is very much tied to the overall state of their health.
"There's a lot of scientific research focusing on intellectual humility and also openness to ideas," says Bassett. "And there are really interesting relationships between someone's openness to ideas, someone's intellectual humility and their curiosity and also their wellbeing or flourishing,"
Listen to "What makes people curious and how to encourage the act" at "Detroit Today."
Register for a book signing event for "Curious Minds: The Power of Connection," on Friday, December 9th at the Penn Bookstore.
This story originally appeared in Penn Engineering Today.