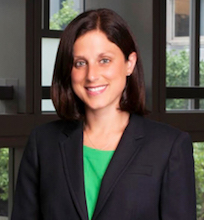 by Sophie Burkholder
Jennifer Phillips-Cremins, Ph.D., was recently promoted to the tenured position of Associate Professor in Penn's Department of Bioengineering. Cremins, leads a lab on campus in 3D Epigenomes and Systems Neurobiology.
In a recent piece profiling top technologies to watch in 2020, Cremins spoke to Nature about which technological trends she saw as being important for the year to come. In the panel, which highlighted perspectives from a panel of researchers across several fields, Cremins discussed the increasing relevance of innovations that would allow researchers to study the way that folding patterns within the human genome can influence how genes are expressed in  healthy individuals and misregulated in human disease.
One such innovation is actually employed by the Cremins Lab: light-activated dynamic looping (LADL). This technique uses both CRISPR/Cas9 and optogenetics to induce folding patterns into the genome on demand, using light as a trigger. In doing so, Cremins and her fellow researchers can more efficiently study the patterns of the human genome, and what effects certain folding patterns can have on the gene expression  state of the cell.
Now, with her new promotion, Cremins can continue advancing her research in understanding the genetic and epigenetic mechanisms that regulate neural connections during brain development, with a focus on how that understanding can eventually lead to better treatments of neurological disease. Beyond the lab, she'll now lead a new Spatial Epigenetics program, bringing together scientists across Penn's campus to understand how the spatial connections between biomolecules influence biological behavior. She will also continue teaching her hallmark course for Penn Bioengineering undergraduate students, Biological Data Science, and her more advanced graduate-level course in epigenomics. Congratulations, Dr. Cremins!