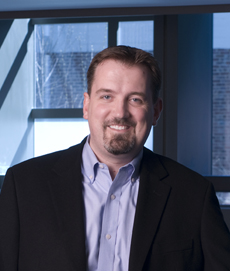 Jason Burdick, Robert D. Bent Professor in the Department of Bioengineering, has been named a Fellow of the National Academy of Inventors (NAI), an award of high professional distinction accorded to academic inventors. Elected Fellows have demonstrated a prolific spirit of innovation in creating or facilitating outstanding inventions that have made a tangible impact on quality of life, economic development and the welfare of society.
Burdick's research interests include developing degradable polymeric biomaterials that can be used for tissue engineering, drug delivery, and fundamental polymer studies. His lab focuses on developing polymeric materials for biomedical applications with specific emphasis on tissue regeneration and drug delivery. Burdick believes that advances in synthetic chemistry and materials processing could be the answer to organ and tissue shortages in medicine. The specific targets of his research include: scaffolding for cartilage regeneration, controlling stem cell differentiation through material signals, electrospinning and 3D printing for scaffold fabrication, and injectable hydrogels for therapies after a heart attack.
Read the full story on the Penn Engineering blog.