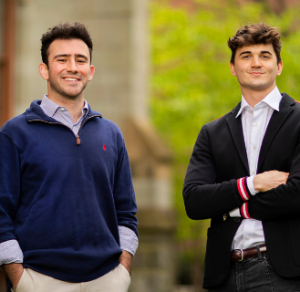 University of Pennsylvania Interim President Wendell Pritchett announced the recipients of the 2022 President's Engagement, Innovation, and Sustainability Prizes. Awarded annually, the Prizes empower Penn students to design and undertake post-graduation projects that make a positive, lasting difference in the world. Each Prize-winning project will receive $100,000, as well as a $50,000 living stipend per team member.
A Penn Bioengineering student is behind one of the prize-winning projects. Grapevine, winner of the President's Innovation Prize, aims to increase resilience within the healthcare supply chain. BE senior Lukas Achilles Yancopoulos and his partner William Kohler Danon created Grapevine, and Lukas went on to adapt the Grapevine software into his award-winning senior design project Harvest by Grapevine along with team members Nicole Bedanova, Kerry Blatney, Blake Grimes, Brenner Maull.
"This year's Prize recipients have selflessly dedicated themselves to improving environmental, health, and educational outcomes for others," said Pritchett. "From empowering young people through free creative writing education to building robotics that minimize fish waste to reducing microfiber pollution in the ocean, these outstanding and inspiring projects exemplify the vision and passion of our Penn students, who are deeply committed to making a positive difference in the world."
William Kohler Danon and Lukas Achilles Yancopoulos for Grapevine: Danon, a history major in the College of Arts and Sciences from Miami, and Yancopoulos, an environmental studies major in the College and a bioengineering major in the School of Engineering and Applied Science from Yorktown Heights, New York, will work to increase resilience across the health care supply chain, with a particular focus on small-to-medium businesses. Grapevine builds upon Danon and Yancopoulos'sinspiring work with Pandemic Relief Supply, a venture that delivered $20 million of health care supplies to frontline workers at the height of the COVID-19 pandemic. They are mentored by David F. Meaney, the Solomon R. Pollack Professor of Bioengineering and senior associate dean for Penn Engineering.
Read about all the winning projects at Penn Today.