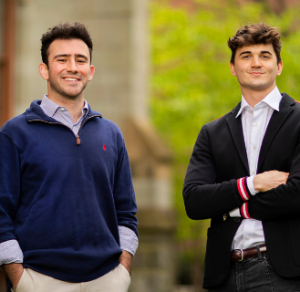 In April 2022, three President's Prize-winning teams were selected from an applicant pool of 71 people to develop projects that promote engagement and innovation. Each project received $100,000, as well as a $50,000 living stipend per team member.
The President's Innovation Prize and President's Engagement Prize winners included Grapevine, which aims to better connect buyers and suppliers to stabilize the medical supply chain market; IF Ventures, with its mission to scale impact by supporting college students with early-stage startup ideas that have measurable social and environmental impact; and Cosmic Writers, which organizes writing workshops to cultivate K-12 students to be better writers and communicators — and, therefore, better citizens.
"In less than a year, these three PIP and PEP prize-winning teams have already proven their commitment to making a difference in the world," says President Liz Magill. "Their projects are ambitious and inspiring, and I am proud the University has been able to provide financial and networking support for these determined changemakers."
Grapevine, 2022 President's Innovation Prize Winners
After graduating in May 2022, Luka Yancopoulos, an Environmental Studies major and a Bioengineering major in the School of Engineering and Applied Science and William Danon, a History major, relocated to an office space in Westchester, New York, and got to work on a research and validation process — first, by spending a day at a Penn Medicine facility, Lancaster General Health, then by committing hundreds of hours to interviewing distributor and procurement teams alike, along with potential client companies. The mission, as any researcher knows, was to understand key pain points. They also onboarded veterans in logistics, technology, and payment security and processing while devising an organizational structure in which Yancopoulous leads on technology and design solutions while Danon interfaces with customers to know what needs remain unmet.
Grapevine soft launched in fall 2022 and, they say, has interfaced with 30 companies through its digital platform to facilitate sales among 40 suppliers, amounting to more than $20,000 in transactions. The appeal of the platform, they say, remains the concept of the "digital supply chain network," which Yancopoulos says partners can use to connect with resellers, hospitals, distributors, and others to reduce the risk of supply chain disruption that is not just a product of the pandemic, he adds, but "forever ongoing."
"It's driven by the principle that together we're stronger, and I mean that in every aspect of my life," he says. "That people are stronger, and with Grapevine we work to [bolster] supply chains and increase the accessibility of health care products — together."
Since winning the President's Innovation Prize, they've focused on working with small- to medium-sized businesses — whether local clinics or high-quality, specialized resellers — that struggle to compete with or pay for traditional, large-scale distributors that are better-resourced or too expensive. It's allowed them to also find new users, like health care-adjacent businesses including funeral homes and tattoo parlors.
Their current tagline: "Grow with us," Danon says.
Watch a video overview of Grapevine's progress since receiving the PIP prize and read more about the other PIP/PEP prize winners at Penn Today.
Read more stories featuring Grapevine.