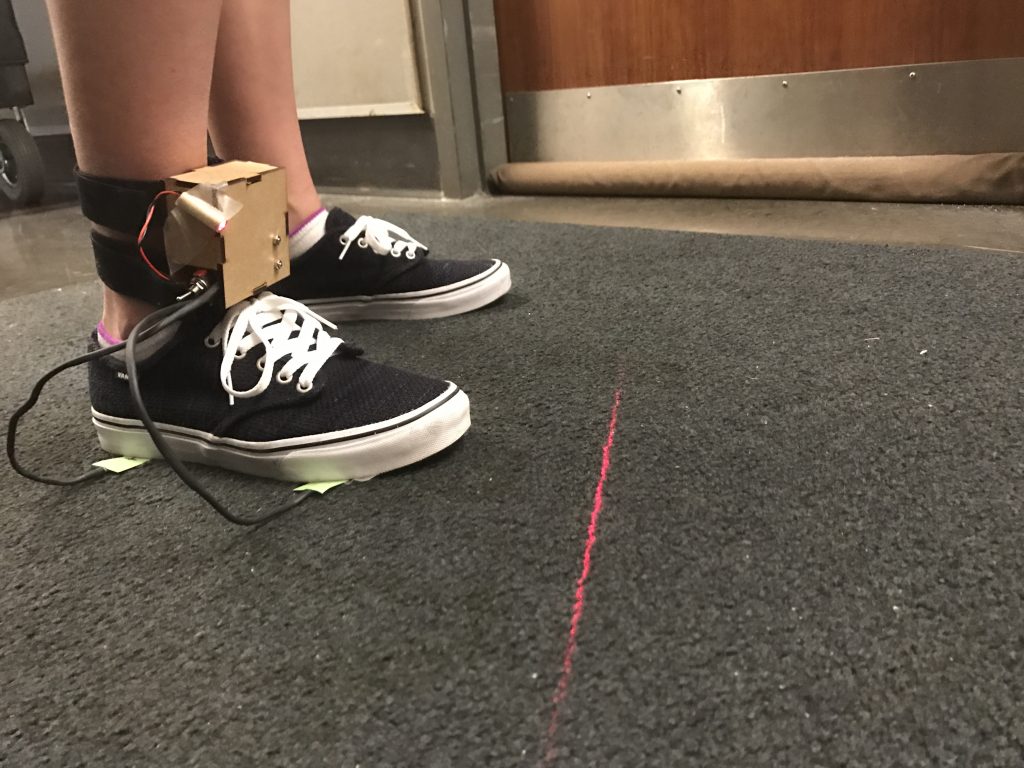 With increasing age in the population, Parkinson's disease has become increasingly common. One of the most frustrating effects of the disease is freezing of gait (FOG), in which a patient will suddenly stop while walking and find it difficult to begin again. Falls are a common consequence.
Despite intensive research, FOG is poorly understood. However, studies have shown that certain external stimuli, including metronomes and devices that provide visual cues, can be helpful. With this knowledge, a team of bioengineering students set to tackle this issue with their senior design project.
The team — whose members were Priyanka Ghosh, Fiona La, Laurel Leavitt, and Lia Lombardi — came up with ShuffleAssist, a wearable device that uses force sensors and an internal measurement unit to detect FOG and automatically provide a cue for the patient. The patient can choose a metronome beat or visual laser cue that can be provided either as determined by the device or continually, for patients who so choose.
ShuffleAssist tested well among normal subjects, detecting FOG correctly 98% of the time within approximate one second. In addition, the students were able to create their prototype for a cost of $107 per unit, compared to similarly intended products already on the market costing more than twice that much.
The next step for the team is to test the device in actual patients with Parkinson's. The students have left the device with a faculty member in the Perelman School of Medicine who treats patients with motor disorders. This faculty member will offer the device to patients for testing.
See below for a video demonstration of ShuffleAssist.