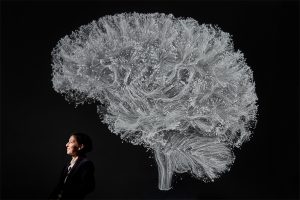 Among shots of a towering thunderstorm reaching into the stratosphere, the moon Daphnis peeking through Saturn's rings, and an extremely close-up of a highly-endangered pangolin in Mozambique, one of Science's favorite photos of 2019 was taken in Penn Engineering's Raisler Lounge.
There, Danielle Bassett, J. Peter Skirkanich Professor in the Department of Bioengineering, poses underneath a giant visualization of the brain's structural connections, projected on the wall behind her. Bassett's research combines elements of physics, mathematics, engineering and neuroscience to provide a new look at how brain function arises from these networks of neurons.
Kelly Servick of Science profiled Bassett last year, revealing how a child whose parents discouraged her from attending college went on to become a pioneer in a highly interdisciplinary way of understanding the brain.
Read Bassett's profile in Science here, and see the rest of the journal's favorite photos of the year here.
Originally posted on the Penn Engineering blog. Media contact Evan Lerner.