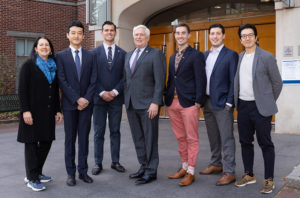 With one of its key missions to develop a new generation of scientists at the interface of dental medicine and engineering, the Center for Innovation & Precision Dentistry (CiPD) has selected its inaugural class of fellows for its new postdoctoral training program.
The CiPD was awarded a $2.5 million T90/R90 grant from the National Institute of Dental and Craniofacial Research (NIDCR) last summer to establish the program, recently naming this first cohort of fellows that includes Justin Burrell,  Marshall Padilla,  Zhi Ren, and Dennis Sourvanos.
"We're hoping this program will promote cross-pollination and create a culture between these two fields to help dentists develop innovative strategies with engineers," says Penn Dental Medicine's Michel Koo, Co-Director of CiPD, who launched the Center in 2021 with Co-Director Kathleen Stebe, Richer & Elizabeth Goodwin Professor in Penn Engineering's Department of Chemical and Biomolecular Engineering. "Dentists can learn from engineering principles and tools, and engineers can understand more about the needs of the dental and craniofacial fields. We're providing a platform for them to work together to address unmet clinical needs and develop careers in that interface."
The NIDCR T90/R90 Postdoctoral Training Program aims to specifically focus on the oral microbiome, host immunity, and tissue regeneration, each of which ties into different aspects of oral health, from tooth decay and periodontal disease to the needs of head and neck cancer patients. To advance these areas, emerging approaches, from advanced materials, robotics, and artificial intelligence to tissue engineering, chloroplast- and nanoparticle-based technologies, will be leveraged.
As part of the two-year training, each postdoc will receive co-mentorship from faculty from each school in conjunction with a career development committee of clinicians, basic scientists, as well as engineers. These mentorships will be focused on research outcomes and readying participants to submit grants and compete for positions in academia or industry.
The inaugural class of fellows includes Justin Burrell, a postdoctoral student in the lab of D. Kacy Cullen, Associate Professor of Neurosurgery; Marshall Padilla, a postdoc in the lab of Michael J. Mitchell, Skirkanich Assistant Professor of Innovation in Bioengineering; and Zhi Ren, a postdoc in the lab of Michael Koo; and Dennis Sourvanos, an Advanced Graduate Dental Education resident at Penn Dental Medicine whose research has been co-directed by Timothy C. Zhu, Professor of Radiation Oncology in the Perelman School of Medicine. Cullen, Mitchell, Koo and Zhu are all members of the Penn Bioengineering Graduate Group.
Read more about the inaugural class of postdocs at Penn Dental Medicine News.