Beer Gets a Hand From Bioengineering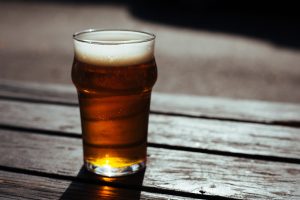 Beer is among the oldest beverages known to humankind. While we don't know what the beer that the ancient Egyptians drank tasted like, there's little question that the trend toward craft brewing over the past generation has resulted in a proliferation of brews with a range of colors and flavors. Beers with a strong flavor of hops are currently popular, resulting in high demand for the plant that bears them. Like many plants, however, the hop plant requires significant water and energy to produce, adding to the burden of global climate change.
Bioengineers from the University of California, Berkeley, might have found a solution to this problem. In an article recently published in Nature Communications, the Berkeley scientists, led by Jay D. Keasling, Ph.D., from the Department of Bioengineering, described how they engineered brewer's yeast cells using DNA from mint, basil, and yeast to produce the terpenoid that produces the taste of hops. Taste testers found the beer made from the engineered yeast to be hoppier in flavor than two commercial beers.
The authors of the study acknowledge that a true hop flavor is likely subtler than the register of tastes they used to engineer their brewers yeast. That said, they believe their research could serve as a basis for the genetic engineering of plant products for a range of uses. In addition, the amount of saved money could be enormous — currently, the cost of growing an acre of hop plants is nearly $7,000, which is approximately 10 times that of corn.
Wearables Monitor Digestion
We may be getting a much closer look at certain aspects of digestion thanks to two wearable devices developed by engineers on two sides of the country. On the West Coast, bioengineers at the University of California, San Diego, led by Todd P. Coleman, PhD, professor in UCSD's Department of Bioengineering,  developed a device to monitor the electrical activity of the stomach over a 24-hour period. Unlike other technologies, this approach doesn't require the user to drink a barium solution or ingest a tiny camera. The device, which they describe in an article in Scientific Reports, consists of a series of wearable sensors based on EKG technology and an event-logging app for computers or mobile devices. In testing, the new device performed comparably to gastric manometry, a 'gold standard' in clinical care that requires insertion of a nasogastric tube. The authors believe their device could have use in gastric motility disorders.
Across the country at Tufts, Fiorenzo Omenetto, PhD, Frank C. Doble Professor in the Department of Biomedical Engineering, led a team of scientists in developing a tooth-mounted sensor that can monitor food intake. The device, which measures 4 square millimeters, is described in an article in Advanced Materials. The sensor could replace the much bulkier mouthguards used for such research in the past.
Painless Lupus Testing
Despite being among the more common autoimmune disorders, lupus is difficult to diagnose. Blood tests often do not provide conclusive results. Ultimately, a kidney biopsy is often necessary to confirm the diagnosis, an invasive procedure that can be problematic with sick patients.
Now, a research team at the University of Houston has developed a saliva test that might eliminate the need for kidney biopsy. Chandra Mohan, MD, PhD, Hugh Roy and Lillie Cranz Cullen Endowed Professor of Biomedical Engineering at UH, received an NIH grant to develop a new technology which identifies proteins in the saliva as biomarkers of lupus. An important aspect of the assay is that it can be used to monitor the disease, as well as diagnose it, so the efficacy of medication to treat the disease can be followed without having to obtain multiple kidney biopsies.
Fluid Shear Stress Affects Ovarian Cells
Like most cancers, survival rates for ovarian cancer have gone up in past decades. As with most cancers, early detection remains a key step to extending survival, but a large proportion of ovarian cancers are not diagnosed until they have metastasized to other organs. Therefore, understanding the process by which normal ovarian cells become cancerous and the mechanism underlying their metastasis could improve our ability to predict these cancers and perhaps detect them earlier.
In response to this issue, researchers at Virginia Tech have uncovered part of the mechanism by which ovarian cancer cells metastasize. Led in part by  Rafael V. Davalos, PhD, L. Preston Wade Professor of Biomedical Engineering and Mechanics, the researchers report in PLOS One that fluid-induced shear stress plays a key role. Ovarian cancer causes the accumulation of fluid in the abdomen, called ascites. Using a mouse model, the study authors found that benign ovarian cells actually became malignant, and malignant cells were more likely to metastasize under this stress. This knowledge could go a long way toward developing more effective treatments for ovarian cancer.
People and Places
Two universities have announced they will begin offering degree programs in biomedical sciences. Among three programs added by Loma Linda University in California is one with an emphasis on neuroscience, systems biology, and bioengineering. Enrollment begins in the fall. In Huntington, W.V., Marshall University has added a bachelor's degree program in BME, also beginning in the fall.
The University of North Texas, near Dallas, broke ground on a new BME building. The college anticipates the building will open for the Fall 2019 semester.
Finally, we are very proud to report that Elsie Effah Kaufmann, PhD, who earned bachelor's, master's, and doctoral degrees from Penn Bioengineering, was honored last week at the 44th annual meeting of the National Society of Black Engineers in Pittsburgh, where she received the 2018 Golden Torch Award for International Academic Leadership. Congratulations!