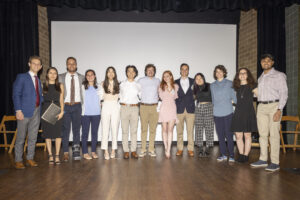 Congratulations to the Bioengineering student recipients of undergraduate awards from the School of Engineering and Applied Science  for the 2022-2023 academic year. These  awards are given annually by the school and the department in recognition of outstanding scholarship and service. Read the full list of Bioengineering undergraduate award winners below.
The Wolf-Hallac Award: Sofia Mouchtaris. This award was established in October 2000 to recognize the graduating female senior from across Penn Engineering's departments who is seen as a role model, has achieved a high GPA (in the top 10% of their class), and who has demonstrated a commitment to school and/or community.
The Management and Technology Scholarship Award: Savan Patel. This prize is awarded by the SEAS faculty to that member of the senior class in the Jerome Fisher Management and Technology Program who has created an innovative system and attained high scholastic achievement.
The Hugo Otto Wolf Memorial Prize: Joshua Freedman & Le He. This prize is awarded to one or more members of each department's senior class, distinguishing students who meet with great approval of the professors at large through "thoroughness and originality" in their work.
The Herman P. Schwan Award: Laila Norford. This department award honors a graduating senior who demonstrates the "highest standards of scholarship and academic achievement."
Exceptional Service Awards recognize students for their outstanding service to the University and their larger communities: Dylan Hurok, Julia Lottman, Caroline Magro & Grace Qian.

The Student Leadership Award: Moses Zeidan. This award is given annually to a student in Bioengineering who has demonstrated, through a combination of academic performance, service, leadership, and personal qualities, that they will be a credit to the Department, the School, and the University.
Additionally, the Bioengineering Department  also presents a single lab group with the Albert Giandomenico Award which reflects their "teamwork, leadership, creativity, and knowledge applied to discovery-based learning in the laboratory." This year's group consists of Ella Atsavapranee, Jake Becker, Ruoming Fan & Savan Patel, aka Team StablEyes.

The awardees above were recognized at the annual Penn Engineering Awards Ceremony held Wednesday, March 29, 2023 in the Harrison Auditorium, Penn Museum.
Three Bioengineering Senior Design teams were chosen for recognition in the Bioengineering Senior Design Competition:
Team BAMBI: Ria Dawar, Pallavi Jonnalagadda, Jessica Ling, & Grace Qian. BAMBI (Biointelligent Apnea Monitor for Bradycardia-Prone Infants) is a tripartite system that leverages machine learning and automated mechanical stimulation to detect and treat apnea of prematurity in the NICU.
Team StablEyes: Ella Atsavapranee, Jake Becker, Ruoming Fan, & Savan Patel. StablEyes consists of a stabilization mount that provides fine, motorized control of the handheld OCT to improve ease of use for physicians and machine learning-based software to aid in diagnosis from retinal images.
Team inSPIRE: Jackson Dooley, Joshua Freedman,Yi-An Hsieh, Isabella Mirro, & Parth Mody. inSPIRE is the first smart incentive spirometer, used post-operatively to improve patient outcomes and reduce costs associated with complications and readmissions.
These teams will compete in the Penn Engineering Senior Design Competition on Friday, April 28, 2023.
Research for these projects was conducted in the George H. Stephenson Foundation Education Laboratory & Bio-Maker Space. Learn about all the 2023 Senior Design projects and view their final presentations on the Stephenson Bio-MakerSpace website here.
A full list of Penn Engineering award descriptions and recipients can be found here.