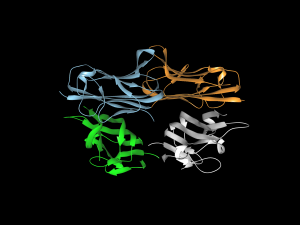 Cell signaling and the proteins involved in it participate in virtually every process in the body, whether normal or pathological. Much of this signaling involves proteins called cytokines, and of particular interest among them are tumor necrosis factors (TNFs), whose job it is to carry out apoptosis — the process by which cells die at predetermined time points as part of their normal life cycle. Among this family of cytokines, TNF-related apoptosis-inducing ligand (TRAIL) has been of particular interest to oncologists.
The process by which TRAIL combines with or binds to other molecules that modulate the life cycle of cancer cells can interfere with the ability of these molecules to facilitate the growth of cancer cells into tumors. However, attempts to deploy the cytokine to interfere in the process that produces cancer have been unsuccessful because of issues regarding inefficient delivery of TRAIL to the relevant sites, poor circulation of the cytokine in the blood, and the development of resistance to TRAIL. Bioengineers have been hard at work attempting to overcome these barriers.
In a new article published in ACS Nano coauthored by Michael J. Mitchell, Ph.D., Skirkanich Assistant Professor of Innovation at Penn Bioengineering, and Robert Langer, Ph.D., David H. Koch Institute Professor at MIT, these engineered solutions are reviewed and assessed. The review covers nanoparticle technologies with potential to solve the problems encountered thus far, including a range of materials (polymers, lipids, inorganic), cell-nanoparticle hybrids, and therapeutic cells genetically engineered using nanoparticles.
"The TRAIL protein is a essential component of our immune system," Dr. Mitchell says, "and it kills tumor cells without harming normal ones. However, it remains challenging to deliver the protein into tumors, and tumors can also be resistant to the protein. We and others are now exploiting nanotechnology, genetic engineering, and immune cell-biomaterial hybrids to overcome these key biological barriers to cancer therapy."