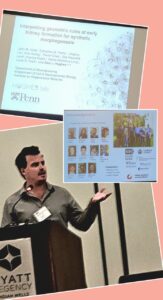 Alex J. Hughes, Assistant Professor in the Department of Bioengineering, was one of thirteen recipients of the 2023 Rising Star Award for Junior Faculty by the Cellular and Molecular Bioengineering (CMBE) Special Interest Group. The Rising Star Award recognizes a CMBE member in their early independent career stage that has made an outstanding impact on the field of cellular and molecular bioengineering. CMBE is a special interest group of the Biomedical Engineering Society (BMES), the premier professional organization of bioengineers.
The Hughes Lab in Penn Bioengineering works to "bring developmental processes that operate in vertebrate embryos and regenerating organs under an engineering control framework" in order to "build better tissues." Hughes's research interest is in harnessing the developmental principles of organs, allowing him to design medically relevant scaffolds and machines. In 2020 he became the first Penn Engineering faculty member to receive the Maximizing Investigators' Research Award (MIRA) from the National Institutes of Health (NIH), and he was awarded a prestigious CAREER Award from the National Science Foundation (NSF) in 2021. Most recently, Hughes's work has focused on understanding the development of cells and tissues in the human kidney via the creation of "organoids": miniscule organ models that can mimic the biochemical and mechanical properties of the developing kidney. Understanding and engineering how the kidney functions could open doors to more successful regenerative medicine strategies to address highly prevalent congenital and adult diseases.
Hughes and his fellow award recipients were recognized at the annual BMES CBME conference in Indian Wells, CA in January 2023.