by Sophie Burkholder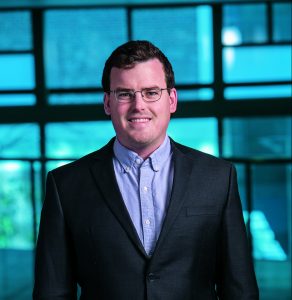 We would like to congratulate Assistant Professor in Bioengineering Alex Hughes, Ph.D., on receiving the Maximizing Investigators' Research Award (MIRA) from the National Institutes of Health (NIH), which funds investigators to create flexible and forward-thinking research programs. Hughes is the first recipient of this award in Penn's School of Engineering and Applied Science, marking a major accomplishment for him and his lab.
The award recognizes Hughes' efforts to create new  tools used for tissue engineering, in particular by fusing concepts from developmental biology into tissue construction efforts. Hughes believes this approach will have impacts on fundamental understanding human disease, leading to new strategies to combat them. Hughes and his lab specifically focus on kidney disease. As Hughes says, "defects in the kidney and urinary tract account for up to a third of all birth defects." Furthermore, because kidney development involves many different kinds of cell interactions, there's a gap in understanding exactly how these defects occur.
Unlike other grants that focus on funding projects, the MIRA prioritizes the people behind the research, giving them funding as a sign of faith in the future work they'll choose to do. "The MIRA has allowed us significant leeway to integrate several complementary approaches here," Hughes says. Because of this flexibility, Hughes and his lab thinks it will allow them to reach for more innovative and risky approaches in their research, in the hopes that this will lead to a better understanding of kidney defects and modes of treatment for them.