by Melissa Moody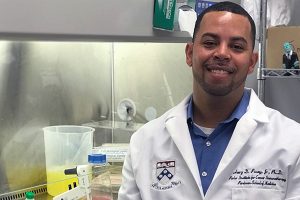 Much of the world, including research at Penn Medicine, has focused its attention on how T cells–which play a central role in immune response—might shape the trajectory of COVID-19 infection, and how immunotherapy can shed light on treatment of the disease.
Already a leader in immunotherapy research and treatment, Penn Medicine pioneered the groundbreaking development of CAR T cell cancer therapy. Avery Posey, an assistant professor of systems pharmacology and translational therapeutics, trained as a postdoctoral fellow in the lab of Carl June, who pioneered CAR T cell immunotherapy to treat cancer. Now as a faculty member at Penn, Posey has maintained a focus on T cell therapeutics, mostly for the treatment of cancer.
"This research combines two of my biggest interests—the use of gene therapy to treat disease and the investigation of little known biology, such as the roles of glycans in cell behavior. The pursuit of new knowledge, the roads less traveled—those are my inspirations," Posey says.
Read more at Penn Medicine News.
N.B.: Avery Posey and Carl June are members of the Department of Bioengineering Graduate Group. Learn more about BE's Grad Group Faculty here.