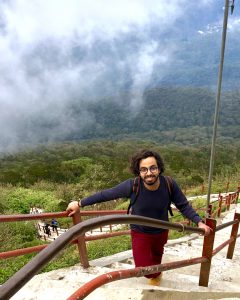 The first in our new student spotlight series is junior Raveen Kariyawasam. Raveen (BSE & BS '21) is a dual degree student in the School of Engineering and Applied Science and Wharton, studying Bioengineering, Finance, and Management.
What drew you to the field of Bioengineering?
Growing up in Sri Lanka and being surrounded by relatives who were doctors, I have been fascinated by both modern and traditional medicine. However, during physician shadowing in high school, I came to the realization that I was far more fascinated with the technology doctors use rather than practicing medicine. Therefore, I made the decision to turn down studying medicine in the U.K. and come to Penn to study Bioengineering in the hopes of being more hands-on with medical technology.
Have you done research with a professor on campus? What did you like, and what didn't you like about it?
I currently work in the Interventional Radiology Lab at the Hospital of the University of Pennsylvania (HUP) under Assistant Professor of Radiology Chamith Rajapakse. The best thing about research here is that I get to be hands-on with some of the most cutting edge technology in the world and help pioneer medical diagnostic techniques that aren't traditionally being used anywhere else. The only downside is that the learning curve can be a little too steep.
What have been some of your favorite courses and/or projects in Bioengineering so far?
Without a doubt, my favorite BE class has to be BE 309 (Bioengineering Modeling, Analysis and Design Laboratory I) and especially the Computer-Cockroach Interface we have to develop for this lab.
What advice would you give to your freshman self?
There are way too many things happening at a given time at Penn. Take it easy and plan it out so you can do everything you want to! It's totally possible. Who says you can't work hard and play hard?!
What do you hope to pursue after obtaining your undergraduate degree?
My hope is to head my own health-tech startup and create technologies that will aid developing countries, starting out with my humble island of Sri Lanka first.