By Lauren Salig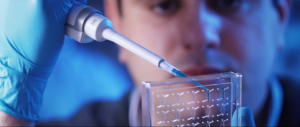 The University of Pennsylvania is highlighting its "ecosystem of innovation" in a new video, featuring some of the most cutting-edge work being done on campus and the infrastructure supporting that work. Alongside shots of the Singh Center for Nanotechnology, the Pennovation Center and the coming VentureLab are the familiar faces of Penn Engineers inventing the future.
The video includes the voices of Vijay Kumar, the Nemirovsky Family Dean of the School of Engineering and Applied Science; Dawn Bonnell, Penn's Vice Provost of Research and the Henry Robinson Towne Professor of Materials Science and Engineering; and Konrad Kording, a Penn Integrates Knowledge Professor of Neurosciences and Bioengineering — each discussing the collaborative environment at the University.
A quick watch of the video reveals glimpses into Penn Engineering labs and projects where much of Penn's innovation happens: PERCH's flying robots that swarm together without using GPS, an investigation into 2-D room-temperature platforms for quantum technology, testing mechanical walking algorithms on robotic legs named Cassie, organs-on-a-chip that aid the study of diseases on Earth and in space, President's Innovation Prize winners' nanoscale implant company Visiplate aiming to treat blindness, blueprints for nanocrystals that self-assemble into materials with unique properties, Penn Electric Racing's four-wheel drive competitive racecar, and PERCH lab spin-off Ghost Robotic's Minitaur robot that senses the ground beneath its metal feet.
See if you can spot these Penn Engineering contributions in the video at Penn Today.
This article was originally posted on the Penn Engineering Medium blog.