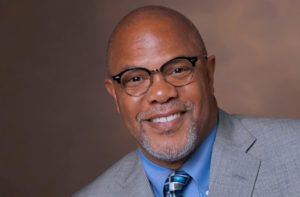 Kevin B. Johnson, David L. Cohen University Professor in Biostatistics, Epidemiology and Informatics and in Computer and Information Science, has been elected to the 2022 Class of the American Institute for Medical and Biological Engineering (AIMBE) Fellows. Johnson joined the Penn faculty in 2021. He also holds secondary appointments in Bioengineering, in Pediatrics, and in the Annenberg School for Communication, and is the Vice President for Applied Informatics for the University of Pennsylvania Health System.
Election to the AIMBE College of Fellows is among the highest professional distinctions accorded to a medical and biological engineer. College membership honors those who have made outstanding contributions to "engineering and medicine research, practice, or education" and to "the pioneering of new and developing fields of technology, making major advancements in traditional fields of medical and biological engineering, or developing/implementing innovative approaches to bioengineering education."
Johnson was nominated, reviewed, and elected by peers and members of the AIMBE College of Fellows for his pioneering discoveries in clinical informatics, leading to advances in data acquisition, medication management, and information aggregation in medical settings.
A formal induction ceremony was held during AIMBE's 2022 Annual Event on March 25, 2022. Johnson was inducted along with 152 colleagues who make up the AIMBE Fellow Class of 2022. For more information about the AIMBE Annual Event, please visit www.aimbe.org.
Read Johnson's AIMBE election press release here. Find the full list of 2022 Fellows here.