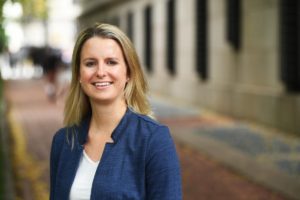 Katherine (Katie) Reuther, Ph.D., M.B.A. will return to Penn Engineering in July 2021 as the new Executive Director of Penn Health-Tech (PHT) and as Practice Associate Professor in Bioengineering. Reuther is an alumna of Penn Bioengineering, having obtained her Ph.D. at Penn in the laboratory of Louis Soslowsky, Fairhill Professor in Bioengineering and Orthopaedic Surgery.
"Dr. Reuther is a role model for biomedical innovation, linking formal training in engineering and entrepreneurship with deep practical experience in leading technologies through the commercialization pipeline. Dr. Reuther graduated with her Bachelor of Science in Biomedical Engineering, Magna cum Laude, from the College of New Jersey; she obtained her Ph.D. in Bioengineering at Penn in the laboratory of Dr. Louis Soslowsky and completed her MBA at Columbia, where she currently is a Senior Lecturer in Design, Innovation, and Entrepreneurship in the Department of Biomedical Engineering. During her tenure at Columbia, Dr. Reuther helped create and led Columbia's Biomedical Engineering Technology Accelerator (BiomedX), overseeing more than 60 technologies leading to $80M in follow-on funding and 18 licenses to start-ups or start-ups industry.  Introducing both new courses and a new curriculum in biomedical innovation, Dr. Reuther was recently awarded Columbia's highest teaching honor, the '2021 Presidential Award for Outstanding Teaching,' this Spring as a recognition of her excellence in teaching and dedication to students.

Katie has extensive experience in developing and translating early-stage medical technologies and discoveries and providing formal educational training for aspiring medical entrepreneurs.  Dr. Reuther served as Director of Masters' Studies for the Department of Biomedical Engineering and spearheaded the development of a graduate-level medical innovation program, including an interdisciplinary course available to scientists, engineers, and clinicians. Dr. Reuther provided advising and educational support to more than 100 student/faculty teams and start-ups, as they worked to develop and commercialize medical technologies. She will bring these extensive skills to PHT and Penn Bioengineering in two new, hands-on graduate courses in medical innovation centered around Penn Health-Tech ventures."
Read the full announcement in OVPR news.