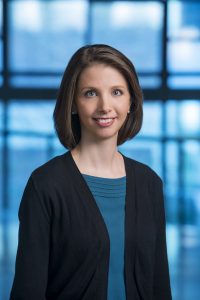 The Department of Bioengineering at the University of Pennsylvania would like to congratulate LeAnn Dourte, Ph.D. on her recent promotion to Practice Associate Professor. Formerly a Senior Lecturer, this promotion reflects Dr. Dourte's innovative approaches to pedagogy since arriving at Penn in 2011. The title of Practice Associate Professor reflects exceptional accomplishment in teaching, leadership, and educational programs. As an official member of the faculty, this formalizes Dourte's role as a leader in pedagogy and educational scholarship, furthering empowering her to think creatively and progressively about higher education.
As a key member of the BE teaching faculty, Dourte has regularly taught core undergraduate subjects such as Intro to Biomechanics (BE 200) and Biomaterials (BE 220) as well as popular graduate electives Biomechanics and Biotransport (BE 510) and Biomechatronics (BE 570). In particular, she spearheaded the department's initiative to improve classroom and learning experiences through experimentation with the Structured, Active, In-Class Learning (or SAIL) model of education which emphasizes teamwork and dynamic problem-solving. Dourte worked with the Center for Teaching and Learning to understand this model and assess how it would best be applicable for BE students, and then presented her findings at national conferences and to the BE faculty, helping to introduce them to these techniques and advise them on best practices. Other BE faculty such as Chris Fang-Yen, Ph.D., Jennifer Philips-Cremins, Ph.D., and Danielle Bassett, Ph.D., have experimented with and incorporated these ideas into their courses. Thanks to Dourte's efforts, BE has been integral in demonstrating the success of SAIL classes to the School of Engineering and then spreading this philosophy to other schools at Penn. In addition to her pedagogical interests, Dourte is also highly involved in the Department's student wellness initiative, serving on the Department's Climate Committee and as the Wellness Ambassador.
Now that she has achieved this latest milestone, Dourte has set her sights on goals for the future. She intends to work with Associate Dean for Undergraduate Education Dr. Russ Composto to strengthen initiatives to assist SEAS's First-Generation, Low-Income (FGLI) students. She will be working with Dr. Bassett, who specializes in network science, to learn more about how students learn, and what tools can be developed to assess students in addition to traditional exams and homework; to tell more easily when students are missing key concepts; and to intervene sooner in moments of crisis. And finally, Dourte will also be one of three representatives from Penn at an upcoming national education summit this May to discuss the future of Bioengineering curricula.
"Our best educators are teachers for the rest of the faculty, as well as the students," says Department Chair Dr. David Meaney. "We are enormously proud of the prestige and expertise that LeAnn shares with all of us. I was fortunate to teach biomechanics with LeAnn for many years, and saw her outstanding ability as an educator in person."
Once again, we would like to extend hearty congratulations to Dr. Dourte on this well-deserved recognition of her leadership and both in and out of the classroom.