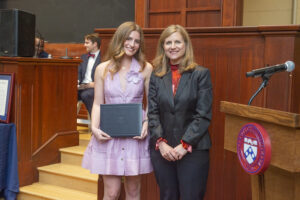 For 150 years, Ivy Day has been an annual tradition at Penn, with each graduating class installing at least one new plaque and planting a sprig of ivy. On Saturday, May 13, the class of 2023 added to the 200-plus plaques throughout campus with a stone designed by Marah Sanchez, a Class of 2023 student in the School of Nursing, and remarks from Vice Provost for University Life Karu Kozuma.
"The Ivy Day Award Ceremony is a special celebration that gives us an opportunity to acknowledge the contributions and accomplishments of our graduating student leaders," Kozuma says. "It is also an occasion to create connections. At the ceremony, we have the privilege of meeting family members and loved ones who have supported the students, while the students can connect with alumni who received the same recognition 25 years ago."
Among the honorees were several Penn Bioengineering students.
Isabella Mirro was presented with the Penn Student Agencies Award by President Liz Magill. This award recognizes distinguished academic achievement and significant leadership in undergraduate activities by a member of the senior class. Mirro, a graduate of the undergraduate Class of 2023, was recently profiled in 34th Street Magazine.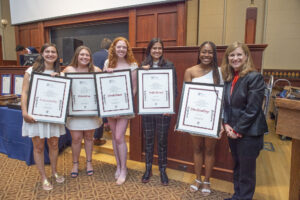 Additionally, Tifara Boyce, Gabriela Cano, Gabriella Daltoso, Sophie Ishiwari, and Caroline Magro were formally presented with the President's Innovation Prize for their startup Sonura. Sonura was featured in Penn Today for their award-winning beanie for NICU infants.
Read the full list of Ivy Day awards in Penn Today.