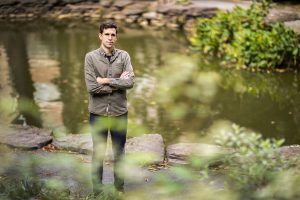 César de la Fuente, PhD, Presidential Assistant Professor in Bioengineering, Chemical and Biomolecular Engineering, Psychiatry, and Microbiology, was featured in the Philadelphia Business Journal's Class of 2021 "40 Under 40" list. Currently focused on antibiotic discovery, creating tools for microbiome engineering, and low-cost diagnostics, de le Fuente pioneered the world's first computer-designed antibiotic with efficacy in animal models.
De la Fuente was previously included in the AIChE's "35 Under 35" list in 2020 and most recently published his work demonstrating a rapid COVID-19 diagnostic test which delivers highly accurate results within four minutes.
Read "40 Under 40: Philadelphia Business Journal's complete Class of 2021" here.
Read other BE blog posts featuring Dr. de la Fuente here.