by Gwyneth K. Shaw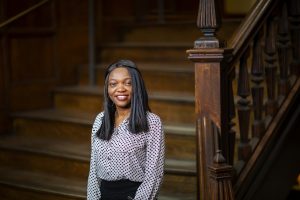 Princess Aghayere, Summer Kollie, and Oladunni Alomaja met for the first time before they even started college, at Penn's Pre-Freshman Program. Drawn together by their common ties to West Africa, they became fast friends and, eventually, roommates. Kollie is originally from Liberia, and Aghayere and Alomaja were born in Nigeria.
Although all three moved to the United States as children or teenagers, each felt compelled to give back to Africa. As winners of one of the 2019 President's Engagement Prizes (PEP), they will.
Their project, Rebound Liberia, aims to give young women a platform to develop their voices and, ultimately, to position them to create a new, more positive narrative about the country. It involves building a basketball court in Monrovia, the capital, and pairing it with literacy programs and a resource center.
The initial goal is to serve about 60 girls between the ages of 8 and 18, to complement what the young women are learning in school, and to build on those skills during the summer break. The PEP gives their project a $100,000 award, as well as a $50,000 living stiped for each of them.
All three women said the ability to begin their post-Penn lives giving back is hugely significant.
"We have always had that passion, that drive to want to work with youth in West Africa, to give back and just kind of help the youth in the way we have been helped along the way of our journey," Kollie says.
"In Africa, West Africa especially, it's very patriarchal," says Alomaja, who goes by the nickname Ola. "We're giving girls a voice. We're empowering them, teaching them leadership skills. And we're teaching them so many things that their society might have taken away from them or has not given them the opportunity to learn.
"For me, being involved in this project means I will be able to see that through and to have a close, interactive relationship with these girls for a long time, to help reach their own goals. I want to help them realize they're more than what their society tells them they can be."
Aghayere, a standout forward on Penn's women's basketball team, began playing basketball not long after she and her family moved to Virginia when she was 8. She's driven by research showing the power of sports to teach leadership, and she can't wait to expand the sport's reach in Liberia.
"Basketball is definitely on the rise in Liberia. If we can build this program to a world-class program and really sort of help redefine Liberia in a new way, it will help. We've talked a lot about the negative narratives about Liberia," Aghayere says. "We want to see this not only be self-sustainable but be something that people from all across West Africa come to and know Liberia for."
The genesis of the project lies in Penn Engineering's global and local-service program. Aghayere and Kollie had both been involved in summer projects in Africa and in 2018 won a grant from the Davis Projects for Peace Program.
Their project, Promoting Education and Cultivating Empowerment (PEACE) through Girls Basketball, renovated a basketball court in Monrovia and hosted a basketball clinic for girls twice a week. Each participant received a jersey, shoes, and a basketball, all donated by the Penn women's basketball team.
Kollie and Aghayere also put together weekly workshops for the girls, discussing everything from sexual and reproductive health to goal-setting. They took the girls to Monrovia's Coca-Cola plant and the nation's Senate, two places where women are scarce.
After that success, the duo wanted to reach higher and began thinking about entering the annual contest for the PEP. Alomaja suggested adding in the literacy component to round out the program.
The trio approached Ocek Eke, the director of global and local-service learning programs in the School of Engineering and Applied Science. He knew all three women, since Alomaja is majoring in bioengineering and Kollie and Aghayere had worked on programs with him, and he agreed to be their faculty mentor for the project.
Read the full story at Penn Today.