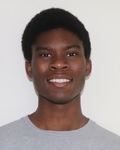 Jamie Moni, a freshman in Penn's Department of Bioengineering, spent his summer before starting Penn participating in the 2020 Africana Studies Summer Institute, a pre-freshman program hosted by the Center for Africana Studies. A recent piece by Penn Today's KristineGarcía profiling the thirty-four-year-old program and its transition to a virtual format featured Moni's thoughts on the program:
"Jamie Moni is a bioengineering major who participated from his home in Hillsborough, New Jersey. The Institute was one of the first programs he sought out after enrolling at Penn, Moni says. 'My parents were really happy that there's a program like this at Penn, especially because there's not a lot of Black people in my town. Most of the African Americans that I interact with on a daily basis are my family,' Moni says, whose ancestry is from Cameroon. 'It's been interesting, to say the least.'
Moni has a close relationship with his peer mentor, Niko Simpkins, who 'has been really one of the best things that I took out of the Africana Institute.' A fellow engineering major, Simpkins gives Moni study tips and introduced him to the National Society of Black Engineers as well as STEM-specific workshops."
Read the full story in Penn Today.