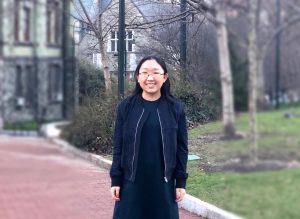 Congratulations to BE sophomore Chloe Cho (BSE '21), recipient of the 2019 Goldwater Scholarship!
Three juniors and one sophomore (Cho) at the University of Pennsylvania have been selected as Goldwater Scholars by the Barry Goldwater Scholarship and Excellence in Education Foundation, which provides scholarships of as much as $7,500 to undergraduate students interested in research careers in the natural sciences, math, or engineering.
They are among 496 recipients chosen this year from across the United States from out of more than 5,000 applicants. To date, 43 Penn students have received the award since Congress established the foundation in 1986 to honor the work of U.S. Sen. Barry Goldwater.
Chloe, a sophomore from Moorestown, New Jersey, majors in bioengineering in the School of Engineering and Applied Sciences. She works with Jason Mills and Jean Bennett at the Center for Advanced Retinal and Ocular Therapeutics on engineering novel treatments for retinal degenerative disorders. She intends to pursue a MD/PhD in bioengineering.
Continue reading about Penn's Goldwater Scholars at Penn Today.