In this series of posts, University of Pennsylvania students who took the spring 2019 APOC (Appropriate Point of Care Diagnostics) course write about their experience traveling to Ghana in May-June 2019.
by Allaire Morgan (Electrical Engineering, '22)
This wasn't your typical 8:00 A.M.
The bus came and picked us up just after 8 and took us to the Kwame Nkruma University of Science and Technology (KNUST, for short) for our orientation to the program. We pulled into a small lot guarded by a fence and some old barbed wire to greet Professor Ellis Owusu-Dabo, a charismatic and accomplished professor in public health in Ghana. We were ushered to a board room where we began a meeting with Ghanaian students and professors. They sang their national anthem, and then asked us to sing the Penn fight song—which we learned the words to the night before in the hostel. Throughout the morning, we heard remarks from Professor Ellis as well as his distinguished colleagues regarding the program and introducing us to the university. Then we closed the session with a prayer, as is custom in a Christian nation such as Ghana, and went to have lunch and tour the university some more.
During our lunch break, I got the chance to chat with Kingsley, a Nigerian student at KNUST in the Water Supply Management program (the program gathers students from all over West Africa to train them as young "water professionals" to better combine ideas from across the region). Kingsley was very passionate about the field he worked in, explaining that about 90% of the issues related to public health and electricity in Ghana and the region at large were due to issues with the water supply—whether it be sanitation or accessibility in general.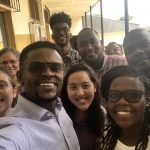 As we toured the university by bus, I talked to Kingsley some more about water systems currently in place, to which he explained the role of politics in the amount of technology able to be implemented. "Trust me, we have the technology," he exclaimed. "It's just the will of the people, and the government, that prevent us from using it." The government here is peculiar compared to that of the United States: Where we had always been focused on separation of state and church, religion and culture here serve as the two strongest influences on the government and their decision-making, which can serve both as a blessing and a curse in some cases like that of water supply funding.
We wrapped up our tour of the university, which looked verydifferent from Penn with its vast fields and cream-and-orange-colored buildings in all their glory. The afternoon session introduced us to the most prevalent medical problems in Ghana to date, as well as giving us a general idea of what the Ghanaian health system looks like. We were given guidance on our project which we had prepared during the spring, and then promptly sent on our way before the sunset, which abruptly ends each day around 6:30 P.M.