The annual Bioengineering Graduate Symposium provides an opportunity for current bioengineering graduate students to showcase their research to faculty and peers through poster sessions and short talks.
Date: January 8th
Location: Wu & Chen Auditorium and Levine Hall Lobby
Time: Check-in opens 12:45, event starts 1 pm.
RSVP: https://goo.gl/forms/r4le7koqYnMj3W4m1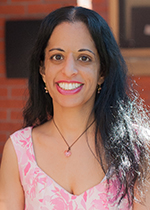 Keynote Speaker: Dr. Sujata Bhatia,
Professor of Chemical and Bimolecular Engineering, faculty director, McNair Scholars Program,
University of Delaware
  "Bioengineering to Alleviate the Global Burden of Disease"
Biochemical and biomedical engineers face an unprecedented opportunity to improve and save the lives of millions worldwide.  Both high-income and low-income countries are experiencing an explosion in the incidence of chronic diseases, including coronary artery disease, stroke, diabetes, and cancer.  At the same time, low-income countries continue to be plagued by infectious diseases, including HIV, tuberculosis, diarrheal disease, and pneumonia; low-income countries are often said to experience a dual burden of chronic and infectious diseases.  Innovative biomedical materials will only reach the clinic if these technologies solve pressing clinical problems.  This talk will describe opportunities for bioengineers to alleviate the global burden of disease.  The talk will additionally highlight specific examples of unmet clinical needs.  Bioengineers in industry, academia, and government can all make a difference, not only by designing novel biomedical products, but also by training the next generation of bioengineers and shaping the future direction of research and development.