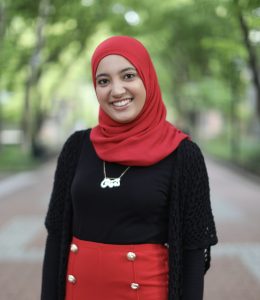 Lamis Elsawah graduated with a B.S.E. in Bioengineering with a concentration in Medical Devices in 2019. She is currently a Design Engineer at Johnson & Johnson's DePuy Synthes. We caught up with Lamis to hear about why she chose Penn Bioengineering and what she enjoyed about the curriculum.
"Penn had been my dream school for years prior to even applying to college, so their having a top notch bioengineering program was icing on the cake when it was time for me to apply. Prior to applying, I actually had the opportunity to meet with Dr. Meaney (who was the Bioengineering Department Chair up until I graduated) the summer before my senior year in high school and he was always a constant support throughout my bioengineering education up until graduation. Since Bioengineering had less than 100 students per class, it really allowed us to develop that familial feel with our core Bioengineering professors and lab staff. I honestly don't think I would have survived junior and senior year without the help of Sevile and the entire lab staff, so I will be forever grateful.
I always like to say that junior year labs are really what made me an engineer. Those were some of the most challenging classes I took, but it was really rewarding once I reached the end. Between those lab courses and Biomechatronics taught by Professor Dourte, it prepared me to become a design engineer and apply all that I had learned. I also had the opportunity to get my minor in Engineering Entrepreneurship and be taught by Professor Cassel, which increased my interest in the business side of developing medical devices. The combination of my studies ultimately led me to Imperial College, London where I received my Master's in Medical Device Design and Entrepreneurship.
The bioengineering curriculum at Penn allowed me to have a vast knowledge of the field that I will always be grateful for. It not only provided me with the mechanical experience, but also the electrical and biological background. I plan on staying an active alumna in both the Engineering Alumni Society and the Penn Alumni Board as a result of my wonderful experience at Penn Engineering and Penn as a whole."
This post is part of BE's Alumni Spotlight series. Read more testimonies from BE Alumni on the BE website.