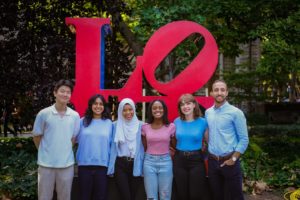 Congratulations to the 2022 University of Pennsylvania iGEM Team who took home a gold medal in the iGEM Grand Jamboree. This international competition of multidisciplinary teams of graduate and undergraduate students presenting original projects in synthetic biology culminated in the in-person Jamboree event held in Paris, France in October 2022. Over 370 judges awarded prizes and medals to the 350+ teams representing over 40 countries.
The 2022 Penn team was awarded a Gold Medal for their project "Photocreate," a toolbox to control intercellular communication using optogenetics. Their plasmid constructs are designed to control protein secretion, display and shedding using a photocleavable protein, Phocl. The full abstract reads:
Intercellular communication is primarily studied using synthetic protein-level circuits. These circuits currently lack the spatial and temporal control necessary for targeted and time-sensitive applications. To address this gap, we developed Photocrete, a toolbox of protein constructs for light-inducible control of protein display, secretion, and shedding. We expanded upon RELEASE (Vlahos et al.), a modular and generalizable protein circuit which utilizes an ER retention motif and an exogenous protease to control protein secretion. We optogenetically modified RELEASE by replacing different components with the photocleavable protein PhoCl, allowing us to control the mammalian secretion pathway at distinct nodes with finely-tuned light administration regimens. Preliminary results indicate integration of Photocrete into the secretion pathway, but more research is necessary to determine optimal light administration settings. The potential for high spatial and temporal control of Photocrete could allow researchers to perform various signaling studies and develop therapeutics at a new level of precision.
The 2022 iGEM team includes undergraduates June Ahn (B.S. in Biochemistry, Physics and Nutrition), Adiva Daniar (B.S.E. in Bioengineering, minor in Engineering Entrepreneurship), Wangari Mbuthia (B.S.E. in Bioengineering), Cristina Perez (B.S.E. in Bioengineering, minor in Physics), Shreya Vallimanalan (B.S.E. in Bioengineering, minor in Computational Neuroscience), an d Moses Zeidan (B.S.E. in Bioengineering, minor in Chemistry and Spanish). They were mentored by graduate students David Gonzalez-Martinez, Gabrielle Ho, Zikang Huang, and Will Benman. Their faculty advisor is Lukasz Bugaj, Assistant Professor in Bioengineering.
Read the full results of the 2022 iGEM Competition here.
Work for the annual iGEM competition is conducted in the George H. Stephenson Foundation Educational Laboratory & Bio-MakerSpace.
We acknowledge financial support from the Bradley Gabel Memorial Fund.