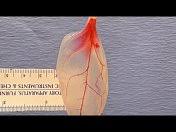 One of the more interesting tissue engineering stories to emerge this past month was the successful finding of a team at Worcester Polytechnic Institute (WPI), which used the veins in spinach leaves as a scaffold that was then recellularized with stem cells that produce heart muscle cells. After three weeks, the transplanted cells showed the ability to contract like the heart does when it beats.
"Proper vascularization of artificial living tissues has been one of the most critical challenges of tissue engineering for decades. This is particularly problematic when the size of the engineered tissue increases.," said Dongeun (Dan) Huh, PhD, Wilf Family Term Assistant Professor in the Department of Bioengineering at the University of Pennsylvania "This work takes an unusual yet ingenious approach to solving this long-standing problem."
Below you can watch a short video of some of the investigators on the study talking about it.