by Julie Wood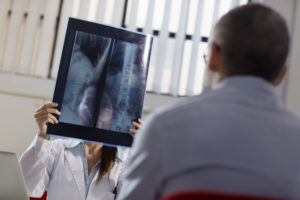 As a child, Sonal Mahindroo would go to her orthopaedics appointments with her family, slowly becoming more and more fascinated by the workings and conditions of the musculoskeletal system. While being treated for scoliosis, she would receive children's books from her doctor that helped provide clear and simplified explanations of orthopaedic topics, which supported her interest.
Nearly a decade later, Mahindroo is still interested in expanding her orthopaedic knowledge, and a Penn Medicine program is helping fuel that expansion. Now a senior at St. Bonaventure University in New York, Mahindroo spends her time at the university's lab. But in addition to that, this year, she was able to take part in more learning opportunities with Penn Medicine's support, via the McKay Orthopaedic Research Lab's Diversity, Equity, and Inclusion (DEI) committee's conference grant program.
McKay's DEI committee — consisting of faculty, post-docs, graduate students, and staff — offers a welcoming environment and resources that support people of all identities, empowering them to bring forward unique perspectives to orthopaedic research.
"Our goal is to improve diversity and culture both within McKay and in the orthopaedic research community outside of Penn," said Sarah Gullbrand, PhD, a research assistant professor at the McKay Lab. "We wanted to provide an opportunity for students to attend a conference and make connections to help them pursue their interest in orthopaedic research."
The McKay conference grant supports undergraduate students who have been unable to get hands-on research experience. Participants are provided with the opportunity to network with leaders in the field of orthopaedic research, listen to cutting-edge research presentations, and learn about ways to get involved in orthopaedic research themselves.
"When launching the conference grant program earlier this year, I was motivated by my own experience attending a conference as an undergraduate. That experience really increased my interest in attending graduate school and taught me a lot about the breadth of research in orthopaedics," said Hannah Zlotnick, a PhD student at the McKay Lab and member of the DEI committee. Through the McKay Conference Grants, the committee has supported two cohorts of students. "So far, we've been able to fund 11 undergraduate students from around the country to virtually attend orthopaedics conferences and receive early exposure to careers in STEM."
Along with the conference grant, the McKay Lab holds workshops, book clubs, and other programs focused on DEI-related topics. As part of their efforts for promoting gender diversity in the field, the McKay Lab has previously partnered with the Perry Initiative to offer direct orthopaedic experiences for girls in high school, where they can learn how to suture, and perform mock fracture fixation surgeries on sawbones.
As a primarily male-populated field, orthopaedics could benefit greatly from diversity efforts. While women comprise approximately 50 percent of medical school graduates in the United States, they represent only 14 percent of orthopaedic surgery residents.
"The only women on staff at my orthopaedist's office were receptionists. There were no female physicians or engineers to make my scoliosis brace," Mahindroo said. "It was really cool coming to the McKay Lab and seeing how much the field has progressed since then."
Read more at Penn Medicine News.
N.B. Hannah Zlotnick is a PhD student in Bioengineering studying in the lab of Robert Mauck, Mary Black Ralston Professor in Bioengineering and Orthopaedic Surgery.