Our next Penn Bioengineering seminar will be held this Thursday. We hope to see you there!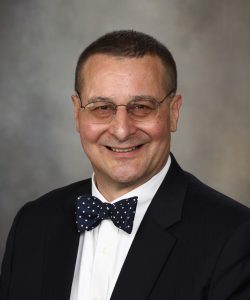 Speaker: Michael Yaszemski, M.D., Ph.D.
The Krehbiel Endowed Professor of Orthopedic Surgery and Biomedical Engineering
Mayo Clinic
Date: Thursday, February 27, 2020
Time: 12:00-1:00 pm
Location: Room 337, Towne Building
Title: "Musculoskeletal Tissue Engineering"
Abstract:
The field of Tissue Engineering/Regenerative Medicine is replete with advances that have been translated to human use. However, our job is not done when a treatment for a specific disease or traumatic event has been invented and translated to humans. In order to be available to the population nationwide (or globally), our novel treatment must be manufactured, transported to the user, and administered by a physician to that user. In addition, novel treatments for rare diseases may not be amenable to manufacture by a company, and perhaps would be best manufactured by an academic medical center. I will discuss these issues that occur after successful translation of a novel treatment to human use, as well as potential strategies to address them.
Bio:
Dr. Michael Yaszemski is the Krehbiel Family Endowed Professor of Orthopedic Surgery and Biomedical Engineering at Mayo Clinic and director of its Polymeric Biomaterials and Tissue Engineering Laboratory. He is a retired USAF Brigadier General. He has served as the president of the Mayo medical staff. He received both bachelor's and master's degrees in chemical engineering from Lehigh University in 1977 and 1978, an M.D. from Georgetown University in 1983 and a Ph.D. in chemical engineering from Massachusetts Institute of Technology in 1995.  He served as a member of the Lehigh University Board of Trustees.