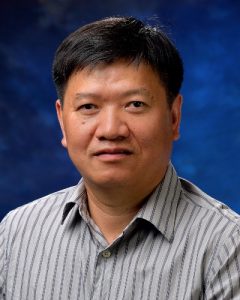 As we age, the cushioning cartilage between our joints begins to wear down, making it harder and more painful to move. Known as osteoathritis, this extremely common condition has no known cure; if the symptoms can't be managed, the affected joints must be surgically replaced.
Now, researchers are exploring whether their specially designed nanoparticles can deliver a new inflammation inhibitor to joints, targeting a previously overlooked enzyme called sPLA2.
Zhiliang Cheng, a research associate professor in the Department of Bioengineering, recently collaborated with members of Penn Medicine's McKay Orthopaedic Research Laboratory, on a study of this approach, published in the journal Science Advances.
The normal function of sPLA2 is to provide lipids (fats) that promote a variety of inflammation processes. The enzyme is always present in cartilage tissue, but typically in low levels. However, when the researchers examined mouse and human cartilage taken from those with osteoarthritis, disproportionately high levels of the enzyme were discovered within the tissue's structure and cells.

"This marked increase strongly suggests that sPLA2 plays a role in the development of osteoarthritis," said the study's corresponding author, Zhiliang Cheng, PhD, a research associate professor of Bioengineering. "Being able to demonstrate this showed that we were on the right track for what could be a potent target for the disease."

The next step was for the study team – which included lead author Yulong Wei, MD, a researcher in Penn Medicine's McKay Orthopaedic Research Laboratory – to put together a nanoparticle loaded with an sPLA2 inhibitor. This would block the activity of sPLA2 enzyme and, they believed, inflammation. These nanoparticles were mixed with animal knee cartilage in a lab, then observed as they diffused deeply into the dense cartilage tissue. As time progressed, the team saw that the nanoparticles stayed there and did not degrade significantly or disappear. This was important for the type of treatment the team envisioned.
Continue reading at Penn Medicine News.
Originally posted in Penn Engineering Today.