by Emily Shafer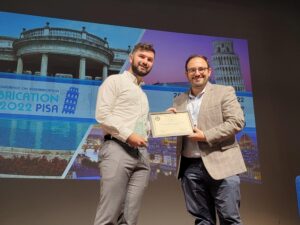 Bioengineering researchers at Children's Hospital of Philadelphia are developing a less invasive and quicker method to create cartilage implants as an alternative to the current treatment for severe subglottic stenosis, which occurs in 10 percent of premature infants in the U.S.
Subglottic stenosis is a narrowing of the airway, in response to intubation. Severe cases require laryngotracheal reconstruction that involves grafting cartilage from the rib cage with an invasive surgery. With grant support from the National Institutes of Health, Riccardo Gottardi, PhD, who leads the Bioengineering and Biomaterials (Bio2) Lab at CHOP, is refining a technology called Meniscal Decellularized scaffold (MEND). Working with a porcine model meniscus, the researchers remove blood vessels and elastin fibers to create pathways that allow for recellularization. Dr. Gottardi and his team then harvest ear cartilage progenitor cells (CPCs) with a minimally invasive biopsy, combine them with MEND, and create cartilage implants that could be a substitute for the standard laryngotracheal reconstruction.
This work and similar work on the tympanic membrane earned Paul Gehret, a doctoral student in the Gottardi Lab, the International Society for Biofabrication New Investigator Award and the Wake Forest Institute for Regenerative Medicine Young Investigator Award.  Gehret and Dr. Gottardi accepted the awards at Biofabrication 2022, the International Conference on Biofabrication, in Pisa Italy.
While laryngotracheal reconstruction in the adult population has a success rate of up to 96%, success rates in children range from 75% to 85%, and children often require revision surgery due to a high incidence of restenosis. The procedure also involves major surgery to remove cartilage from the rib cage, which is more difficult for childrens' smaller bodies.
"Luckily not many children suffer from severe subglottic stenosis, but for those who do, it is really serious," said Dr. Gottardi, who also is assistant professor in the Department of Pediatrics and Department of Bioengineering at CHOP and the University of Pennsylvania. "With our procedure, we have an easily accessible source for the cartilage and the cells, providing a straightforward and noninvasive treatment option with much potential."
Read the full story in CHOP's Cornerstone Blog.
Riccardo Gottardi is an Assistant Professor in the Department of Pediatrics, Division of Pulmonary Medicine in the Perelman School of Medicine and in the Department of Bioengineering in the School of Engineering and Applied Science. He also holds an appointment in the Children's Hospital of Philadelphia (CHOP).
Paul Gehret is a Ph.D. student in Bioengineering, an Ashton Fellow and a NSF Fellow. His research focuses on leveraging decellularized cartilage scaffolds and novel cell sources to reconstruct the pediatric airway.