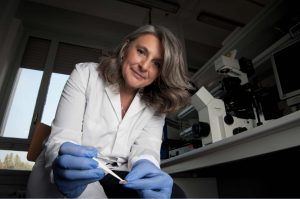 Manuela Teresa Raimondi was appointed Visiting Professor in Bioengineering in the Associated Faculty of the School of Engineering and Applied Science for the 2020-2021 academic year. Raimondi received her Ph.D. in Bioengineering in 2000 from Politecnico di Milano, Italy. She is currently a Full Professor of Bioengineering at Politecnico di Milano in the Department of Chemistry, Materials and Chemical Engineering "G. Natta", where she teaches the course "Technologies for Regenerative Medicine" in the Biomedical Engineering graduate program.
Raimondi is the founder and Director of the Mechanobiology Lab and of the Interdepartmental Live Cell Imaging lab. She has pioneered the development of cutting edge tools for cell modelling, ranging from micro-engineered stem cell niches, to miniaturized windows for in vivo intravital imaging, to microfluidic culture systems to engineer tissue-equivalents and organoids for cell modelling and drug discovery. Her platforms are currently commercialized by her start-up, MOAB srl. Her research is funded by the European Research Council (ERC), by The National Centre for the Replacement, Refinement and Reduction of Animals in Research (NC3Rs), by the European Commission, and by the European Space Agency.
"Getting to Penn was quite the challenge with the various travel restrictions and the pandemic, but I am used to overcoming adverse odds and I am really excited to be here now," says Dr. Raimondi. "In this challenging time, when many new barriers are coming up, I think building bridges and new scientific collaborations is even more important. I very much look forward to being part of the Penn research community."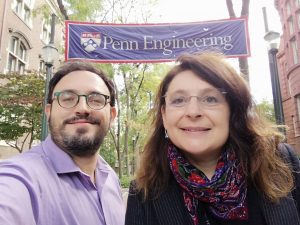 During her sabbatical at Penn, Raimondi is investigating her hypothesis that stem cells pluripotency reprogramming can be guided by mechanical cues. Over the past five years, she has cultured many different stem cell types in the "Nichoids," the synthetic stem cell niche she developed, and gathered robust evidence on how physical constraints at the microscale level upregulate pluripotency. Raimondi is hosted in the Bioengineering and Biomaterials Lab of Riccardo Gottardi, Assistant Professor in Bioengineering and in Pediatrics at the Perelman School of Medicine, where she is helping to refine human stem cell sources that could be minimally manipulated for translational tissue engineering for a safe and effective use in regenerative therapies, as a key issue for clinical translation is the maintenance or enhancement of multipotency during cell expansion without exogenous agents or genetic modification.
"Dr. Raimondi is a trailblazer in Italy in regenerative medicine who has introduced many new concepts in a sometimes musty academic environment and has shattered a number of glass ceilings," says Dr. Gottardi. "I think her sabbatical at Penn is a great opportunity for her and for the Penn community to build new and exciting trans-Atlantic collaborations."