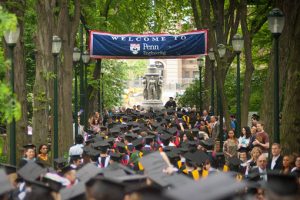 Every year, U.S. News & World Report compiles the rankings of Bioengineering and Biomedical Engineering departments across the country. Today, U.S. News revealed its rankings for 2019. Penn Bioengineering placed 4th among almost two hundred programs. Tied now with programs that include MIT, UC Berkeley, and Stanford, Penn BE is the fastest rising program in the Top 10. The department also strengthened its position as the highest ranked science and engineering program at Penn in this year's rankings.
"It was welcome news to know that we were evaluated so highly by our peers" says David Meaney, chair of Penn BE, "I really think it is a statement of the students we attract to Penn, our educational programs, and the cutting edge research done by our faculty".
Penn Engineering also rose in the rankings, rising one spot to #18.  Computed based on scores from peers, recruiters, and research activity, the rankings show that Penn BE lives in a healthy engineering ecosystem!