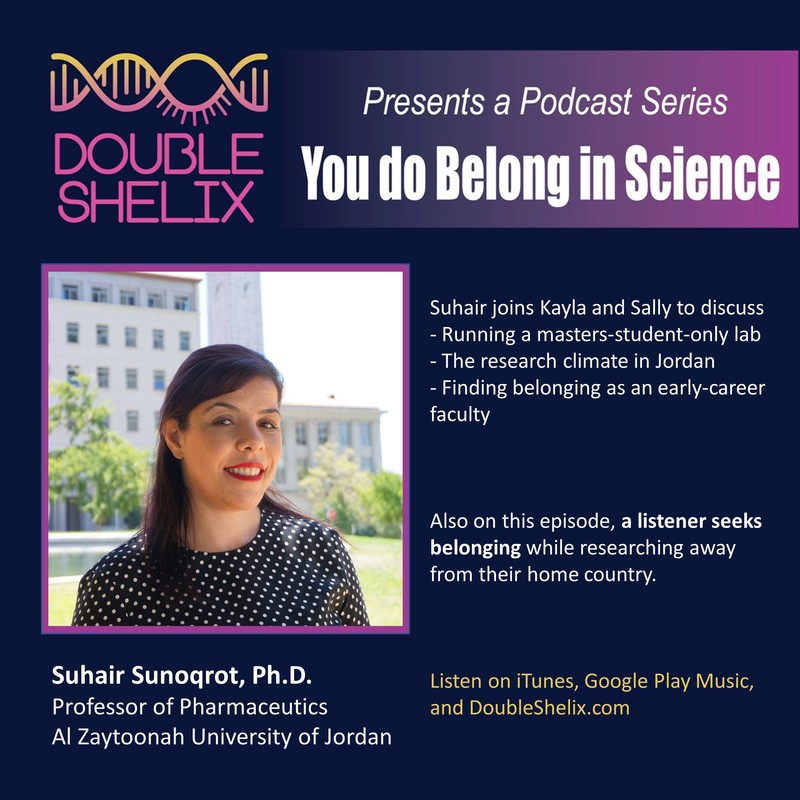 Professor Suhair Sunoqrot joins Sally and Kayla to discuss her experiences running her research lab at Al Zaytoonah University of Jordan and what she wishes international colleagues understood about the research climate in Jordan. Also on this episode, a listener is having a hard time fitting in while researching in another country, and Suhair's experience finding belonging in research labs in the US and Europe is discussed. Suhair successfully balances her nanoparticle and drug delivery research with a heavy teaching load, and Sally and Kayla learn her secrets for making it work. Suhair is an outstanding researcher and mentor.
Resources:
* Suhair on LinkedIn
* Suhair Sunoqrot Lab at Al Zaytoonah University
Thank you to the Berkeley Student Tech Fund. Thanks also to Gustavo Villarreal (@wikirascals) and Kaz Lewis (@kazlewis) for our awesome graphics and photos!
Follow Double Shelix on Twitter @doubleshelixpod
Send us your stories of (not) belonging in science! Doubleshelixpodcast@gmail.com, on doubleshelix.com, and 1-415-895-0850.
You do belong in science!!!
Podcast: Play in new window | Download