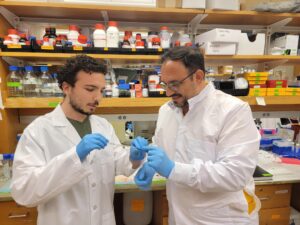 Riccardo Gottardi, Assistant Professor in Pediatrics in the Perelman School of Medicine and in Bioengineering in the School of Engineering and Applied Science, has been named a "Young Innovator of Cellular and Molecular Bioengineering" by Cellular and Molecular Bioengineering, the official journal of the Biomedical Engineering Society (BMES). Gottardi is Chief Scientist in the Pediatric Airway Frontier Program at the Children's Hospital of Philadelphia (CHOP). He leads the Bioengineering and Biomaterials (Bio2) Lab, and was recognized here for his research to prevent subglottic stenosis in children.
Gottardi's work in subglottic stensosis, a severe narrowing of the airway in response to intubation, was recently profiled in CHOP's Cornerstone Blog. CHOP's award press release describes Gottardi's innovative treatment:
"Prior studies by Dr. Gottardi's lab used in vitro models to demonstrate that incorporating AMPs into polymer-coated tubes can inhibit bacterial growth and modulate the upper-airway microbiome. In a recent study in Cellular and Molecular Engineering, led by [Bioengineering] PhD student Matthew Aronson of the Gottardi Lab, the researchers went a step further and used both ex vivo and in vivo models to show how their patent-pending antimicrobial peptide-eluting endotracheal tube (AMP-ET) effectively targeted the local airway microbiota, reducing inflammation and resolving stenosis.

'I am honored to be recognized by Cellular and Molecular Engineering for this exciting and notable award," Dr. Gottardi said. "We are hopeful that our airway innovation will show similar success in human trials, so that we can improve outcomes for intubated pediatric patients.'"
Read CHOP's full announcement of the award here.