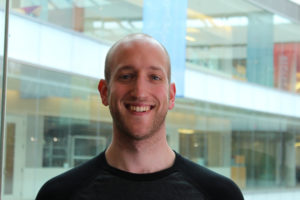 Spencer Haws, Postdoctoral Research Fellow in the laboratory of Jennifer E. Phillips-Cremins, Associate Professor and Dean's Faculty Fellow in Bioengineering and in Genetics, was awarded a 2022 Druckenmiller Fellowship from the New York Stem Cell Foundation Research Institute (NYSCF). This prestigious program is the largest dedicated stem cell fellowship program in the world and was developed to train and support young scientists working on groundbreaking research in the field of stem cell research. Haws is one of only five inductees into the 2022 class of fellows.
Haws earned his Ph.D. in Nutritional Sciences in 2021 from the University of Wisconsin-Madison, where he studied metabolism-chromatin connections under the mentorship of John Denu, Professor in Biomolecular Chemistry at the University of Wisconsin-Madison. As a NYSCF – Druckenmiller Fellow in the Cremins Laboratory for Genome Architecture and Spatial Neurobiology, Haws is using this previously developed expertise to frame his investigations into the underlying mechanisms driving the neurodegenerative disorder fragile X syndrome (FXS). "Ultimately, I hope that this work will help guide the development of future FXS-specific therapeutics of which none currently exist," says Haws.
Read the full list of 2022 Druckenmiller Fellows and view introductory videos on the NYSCF website.