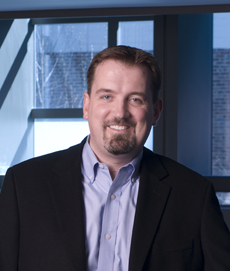 Jason Burdick, Ph.D., professor in the Department of Bioengineering, was among the recent recipients of a grant from Sharing Partnership for Innovative Research in Translation (SPIRiT), a pilot grant program awarded by the Clinical and Translational Science Award (CTSA) division of the National Institutes of Health (NIH).
Dr. Burdick's research, undertaken with Albert Sinusas, MD, of Yale, concerns the development of a noninvasive treatment to limit the damage to the heart caused by heart attacks, which are suffered annually by almost 750,000 Americans. Using single-photo emission computed tomography (SPECT), the technique identifies the damaged heart muscle on the basis of enzymes activated by damage, followed by the targeted administration of bioengineered hydrogels for the delivery of therapeutics
Dr. Burdick says, "This research has the potential to advance treatments for the many individuals with heart attacks who have few current options. Our approach uses injectable materials and advanced imaging techniques to address the changes in protease levels after heart attacks that can lead to tissue damage."
In other news, Dr. Burdick was one of 12 researchers named by the NIH's Center for Engineering Complex Tissues to lead collaborative projects aimed at generating complex tissues for several parts of the body.